Gulf Trace is a wonderful deed-restricted community of elegantly designed homes built originally by Arthur Rutenberg and dotted with other custom-built homes. You will often see walkers making their way around the winding tree lined streets sprinkled with peaceful ponds and accented with a welcoming fountain. Benches beckon you to sit, relax, and enjoy the abundant water and wildlife.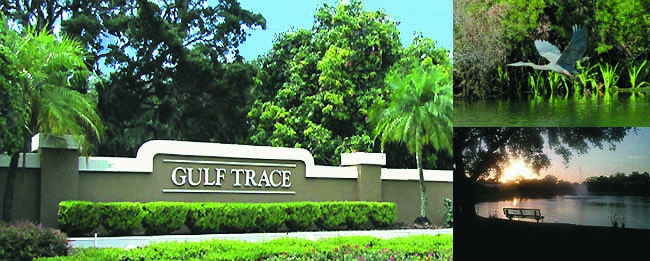 The Community is ideally situated within walking distance to the Gulf Trace Elementary School and a large Pasco County recreation complex offering: outdoor and indoor basketball courts, soccer and baseball fields, tennis courts, playground, and  community center- hosting activities for all ages. Key Vista Nature Park, featuring walking trails down to the Gulf and an amazing view of Anclote Key as well as a County bird sanctuary, home to bald eagles, is but a short bike ride away, less than a mile. Located within a three mile drive are: public boat launches, private marinas, a riverfront park with a beach, fishing pier, and dog park. Finding your way around the Nature and Sun Coasts is as easy as it is a pleasure.
Gulf Trace's impressive entrance is located on US HWY 19 within easy access to retail centers, restaurants, doctor's offices and hospitals. State Road 54, a few blocks north, provides a fast track to the Suncoast Highway, Tampa Airport, and Interstate 75. Our friendly neighbors to the south and north, Tarpon Springs and New Port Richey, offer picturesque waterfront venues for dining, shopping, and antiquing. Both communities host art fairs, concerts and festivals throughout the year. Fred Howard Park and Green Key Park offer gorgeous white sand beaches, perfect for beach walks, swimming, kayaking, and enjoying the magnificent Gulf sunsets.
Disclaimer: The author is not responsible for and may not be held liable for any errors or incorrect information provided on this website. The legal name of the organization is the GULF TRACE HOMEOWNERS ASSOCIATION, INC. sometimes referred to as the GTHA on this web site.